Folktales, Fire & Stone – Thursday 21st December 2023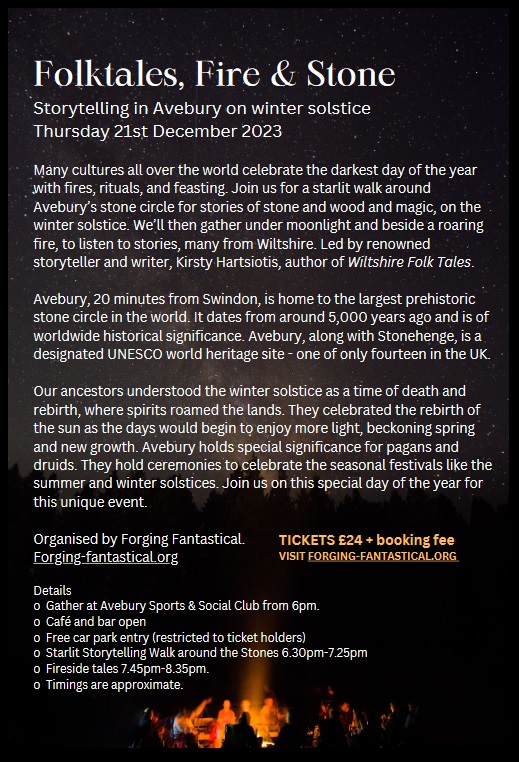 Fantastical Tales Saturday 7th October 2023
Many thanks to our storytellers Anthony Nanson, Helen Wright and Jessica Perkins. We also thank Pete Wilson (Roker Media) for the brilliant photos. What a great night and another sell-out arts event in Swindon!
Fantastical Tales Saturday 7th October 2023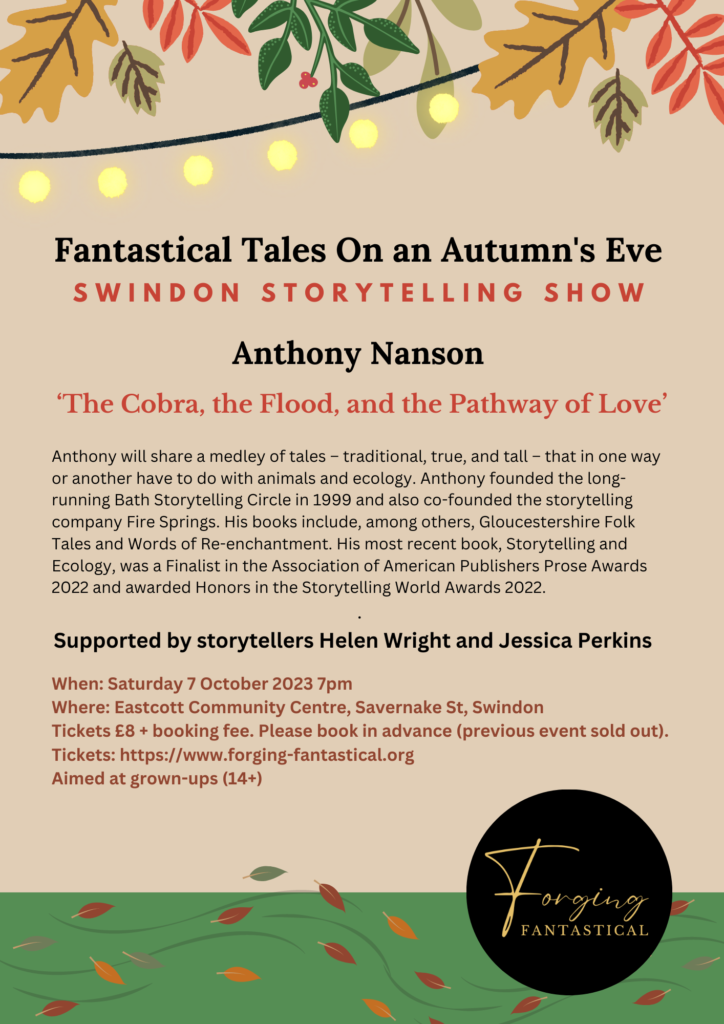 Tickets are available here: Storytelling Evening: The Cobra, the Flood, and the Pathway of Love at Eastcott Community Centre event tickets from TicketSource
Ales & Tales Wednesday 12th April 2023
Huge thanks to Roker Media for taking photos at this event.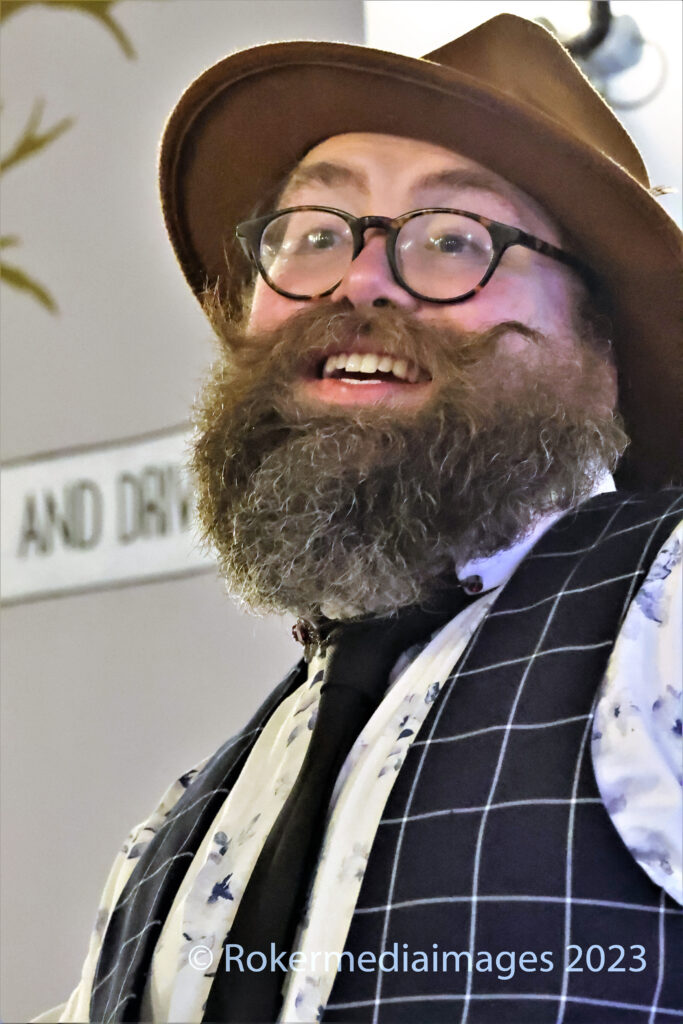 Ales & Tales Swindon
Fantastical Tales 4th February 2023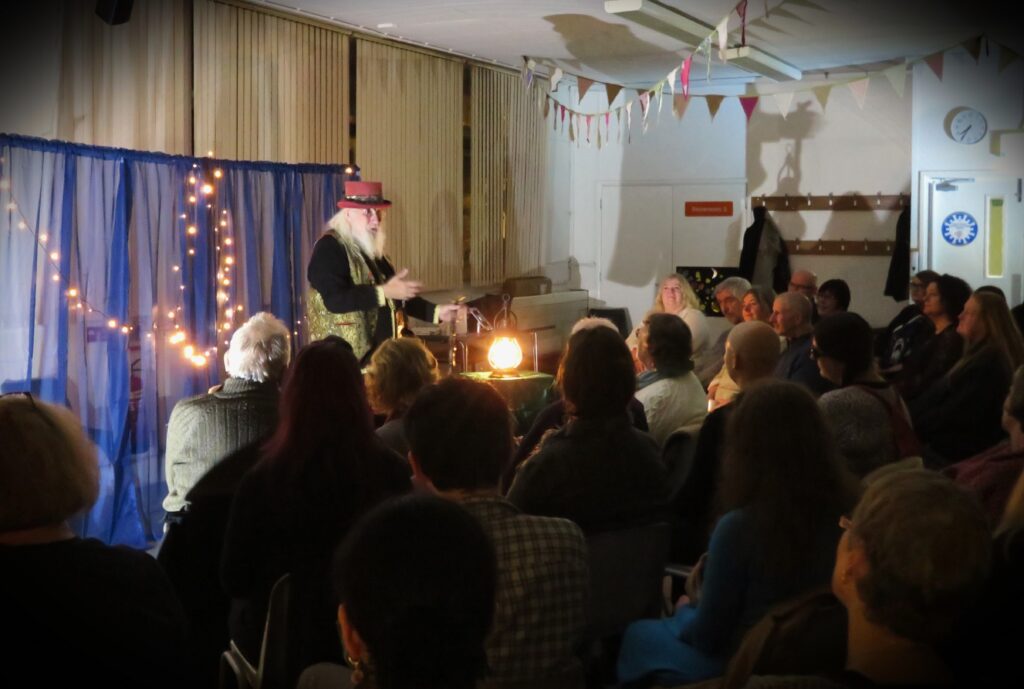 Fantastical Tales
(ALL TICKETS SOLD)
Eastcott Community Centre, Swindon, SN1 3LZ
Sat 4th February 2023
An evening to switch off from the ordinary and immerse yourself in folktales, drawing upon myth, legend and folklore. Inspired by lands near, lands far and lands imagined, bringing positivity, mystery, and joy to a winter's eve. Performed by the extremely talented John Row and Fiona Eadie.
Tickets £8
John Row
John has been a globetrotting storyteller for more than 40 years in all sorts of settings including prisons (he was the first storyteller in residence in a British prison). In recent years his time has been spread between Swindon, Transylvania (where he has a house he uses as a writing retreat), Morocco (where he is organising a storytelling festival in the souks of Marrakech) and Texas. He has told stories from Indonesia, Malaysia and Brunei in the east to Lapland in the north, Shajah in the middle east, Texas, North Africa and across Europe.
Fiona Eadie
Fiona is passionate about language and about bringing the spoken word to life. Telling stories that entertain, illuminate, engage and inspire – Fiona studied at the International School of Storytelling in Sussex and enjoys telling stories in libraries, museums, arts centres, businesses, schools, at weddings and out-of-doors.
Doors open at 7pm and the show will begin at 7.30pm and will be finishing between 9.15pm/9.30pm. There will be a brief interval part way through.
Non-alcoholic beverages such as tea and hot chocolate will be available for £2. Any profits will go to the local charity Swindon Hardship Fund which helps local people struggling to afford things for which many of us take for granted.
Storytellers will prepare tales for ages 14+